Holiday tradition in the Gonzalez household entails taking my MIL out to pick a Christmas tree (not a Holiday tree) after Thanksgiving day.
We head over to the Boys Club on 32nd Ave where one of my Golf buddies runs the place and he always "hooks us up" with a special tree (which still cost 120 bucks). He gets a helper to cut and wrap it up in that annoying plastic interlocking twine thingy (which is a PIA to cut) and loads it on to the car.
Always love to see the expression of the helper when he learns that the car is not an SUV nor a pick up but a nice little convertible…..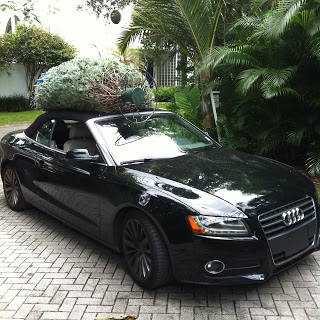 BTW; if you ever decide to buy a car that has been previously leased, forget Car Fax, ask if I had the previous lease and if I did……..DON'T Buy it!