After many years of basically saying that 3rd party Real Estates sites are worthless, confusing and really just eye candy for home stalkers……….
They give me this!!!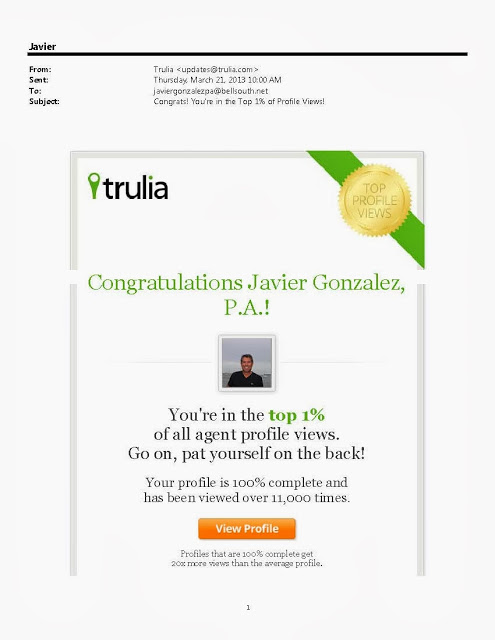 Yes Sir……TOP 1% in Profile views which means;
Either the picture does me justice OR more likely a lot of folks think I have dough and want to sell me something! Good news Kids, Most of you are starting to figure out that these sites are really not that good.
HOLD IT!!!
"So Jav if these sites blow, why are you on them and why are you in the top 1%?"
Funny you should ask (and I knew you would cause I'm writing this….I'm sharp that way), I get at least 5-6 calls a day from other sites wanting to sign me up to all of these great interweb products from lead generating, to REO listings to FSBO referrals…to all sorts of crap.
I always ask them "Why me and how did you find me/"
They will ALWAYS reply "I found you one line, saw that you were "Active" (Read "advertising in Real Estate" ) and wanted to take a minute of your valuable time to offer………
Which I always reply "Not interested"
That will sometimes lead to "But I see that you are advertising on Trulia and…." I cut them off pronto.
Want to know why I advertise in Trulia dear readers?
Because if I don't shell out 200.00 a month to Trulia, they will take my listings (and your homes) and sell them to other agents…..Now ain't that nice BUT they did give an award!
BTW; NO KIDDING….while I was writing this I got a call from a potential customer off of Zillow…..BIG BROTHER is truly watching….
BTW 2; There really is a reason why I have so many profile views…more tomorrow….