I've probably mentioned this before BUT I have driven all sorts of automobiles in my life and over the years I found one thing to be true; does not matter what kind of fast ride you drive, your average speed in the Magic City will top out at 14 MPH…
I used to have a really sweet 993 Porsche Convertible (well actually Ana drove it) and it was lots of fun and I remember taking it on a road trip up to Rhode Island and back…
True Story:
During the trip we made a stop in the Big Apple and that's where I learned that NY Bus Drivers do not and I mean NOT give a crap about your ride as I had one cut me off while I was trying to sneak in a quick right hand turn off 5th ave to get to the tunnel.
Another True Story:
Saw one of the coolest Hollywood style accidents on I95 (no one hurt) but I know the driver that went off on the side of road crapped his pants…
Where was I going with this???
Oh, so Ana after years of driving the 993 decided that she wanted to get a Jeep and we did AND she just got a make over.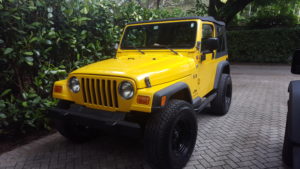 I know other Realtors ride up in fancy cars trying to impress (been there, got a tee shirt) but after a while you realize…don't matter the Ride…still only going 14MPH.