OK, not like in "Try" but as in Triathlon….which I am going to Try.
After 10 months removed from Hip replacement surgery, I have signed up for a Tri Sprint in Key Biscayne famous "Flex" park (more on this some day).
What is a Tri Sprint?
1/4 Mile Swim
10 Mile Bike Ride
3.1 Mile Run
And seeing as "Hydration" is important….I have stocked up!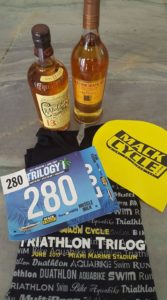 If I don't Drown, I'll let you know how I do…
Tri's "GottaJavMiami"