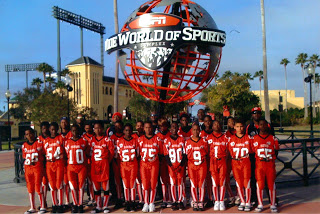 We are excited and proud of our local Coconut Grove Knight Riders' Pee
Wee football team. They played hard to earn their spot in the Pop Warner National Championship playoffs and game at the ESPN Wide World of Sports Complex at Disney World.
Even more amazing is the overwhelming effort it took to get these guys there. The local Coconut Grove community rallied to get the funds necessary to get them to the Championship they almost couldn't make.
It was only through the local paper that I found out about them but I believed enough in this group to not only have donated but to learn more about these young boys and the folks behind them.
Luckily our community pulled through to make it happen this year but I found out that it continues to be an issue during every season. While the Knight Riders' staff is busy making sure the boys get their "C" average to play (at least), and making sure they have their physicals done each season…and of course making sure they can play the game; this group behind the Knight Riders is responsible for coming up with the funds needed to pay for the football fees, the physicals, the uniforms and supplies, transportation to and from games, referee fees, field fees, and even more fees as they climb up the championship ladder!
Unfortunately for many in this community, handing over $100 so their kid can play football is a luxury they cannot afford.
And that's something that these kids shouldn't have to think about.
So I'm throwing a hail Mary for the Knight Riders and running the ING marathon in their honor.
All I ask is for a pledge of $20 if I break the marathon in 4 hours.
All proceeds will go directly to the Youth Empowerment Social Services who make the magic happen.
Over the years, they've developed some great athletes. Athletes that we only hope will come back and make the same contribution to their community
(Frank Gore was just here for the kids).
It's a great local charity that motivates and allows these children to
shoot for the stars.
If you want to help please send your donations to:
ReMax Advance Realty
Attn: Javier Gonzalez
7220 SW 57 Avenue
South Miami, FL 33143

IMPORTANT; I want you to get credit for the donation.
Make Checks payable to: Youth Empowerment Social Services
Check Memo: Jav's Marathon Run