As most folks have wimped out and have headed to other States, we hardy few have decided to see this one through in our very own homes (Everyone on our street is staying) and since we live in South Grove we expect our power to be out FOREVER…
And just to make sure we understand this, FPL gave us a preview this morning….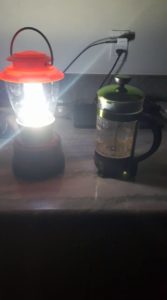 Nespresso's are great but when you ain't got juice, you go old school with a french press…I got's to have my coffee.
"Gotta Jav Miami" is just waiting for storm to pass.