No, more like breakfast at Chamber of Commerce South Miami but without Audrey and George
This morning was our annual "Awards" meeting and much to our surprise we hit it BIG!!!!
Erica was the "Rookie of the Year" and "Customer is always Right" awards recipient.
"E" has truly embraced this Gig I call Real Estate and this recognition is well deserved (and well earned).
I'm very proud of her, She works her tush off for all of our customers and I know that I could not do what I do without her.
Congrats E
Oh and we have Fancy Crystal Plates to prove it………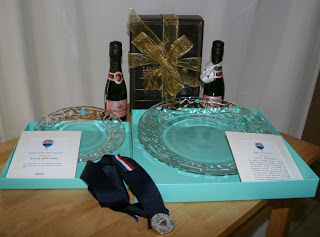 Wondering if I "Won" anything?
 
Your not?
 
Damn that's cold………..then I'm not sharing that 18 year old single malt with any of you's!