A few of my loyal readers…ok my only reader of this blog asked "So Jav, what's up with the black shorts"?
FASHION UPDATE!!!!
After sleeping with a big shot at Saks Fifth Ave (for the last 28 years), they (She) finally decided that Black shorts would be a good thing to stock and lo and behold they have added this basic color to their "fall assortment"…….I bought everyone just in case and they are very stylish.
Second topic, "So Jav, you said you jumped (got pushed) off a plane but all you showed is a picture of you on the ground; how do we know this is true?"
Oh you had to go there?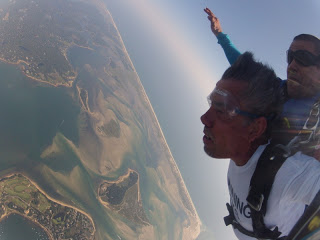 BTW, That's Pleasant Bay in the background……